Due to direct wine shipping laws, Lucchesi Vineyards & Winery can only ship wine to the following states (highlighted in Orange): AZ, CA, CO,  CT, FL, GA, HI, IL, IN, IA, KS, LA, MD, MI, MN, MO, NV, NH, NM, NY, NC, OH, OR, PA, TN, TX, VA, WA, DC.
If your state isn't listed above, check back periodically because it may be approved soon.
*HI Residents: Requires Air freight shipping (2-Day Air)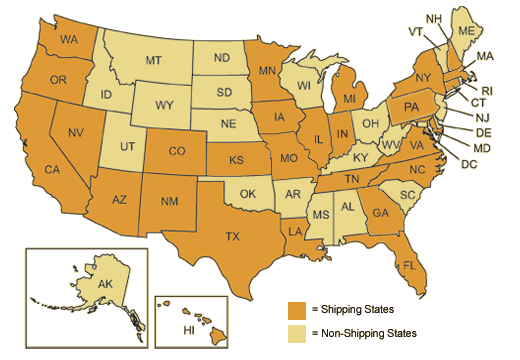 Terms as stated below shall refer to Lucchesi Vineyards & Winery Inc as "Lucchesi" and customer as "Purchaser". Standard freight carriers such as UPS or FedEx shall be referred to as "Carrier".
Legal Age Requirement: You must be 21 years of age or older to order and/or receive wine from "Lucchesi". Receipt of shipments containing wine requires the signature of a person 21 years of age or older..
Default Shipping Method: All orders are shipped UPS Ground, unless otherwise requested. Orders received by 3:30pm PST will ship the following day. Orders received on Friday will ship the following Monday. If you would like same day fulfillment and shipping for your order, please contact us at (530-273-1596). When your shipment is picked up by the common carrier for delivery, responsibility for the wine transfers to the purchaser.
Shipping Rates: Lucchesi maintains every effort to publish accurate shipping rates for purchases made at winery and through its online shop. However, rate changes may occur at any time and without notification. Therefore additional charges above the quoted or charged rate from winery will be the responsibility of the Purchaser and their shipment charge will be adjusted accordingly.
Heat & Weather Conditions: Because of our sensitivity to the temperature variances that can occur during the summer months, we generally ship Monday through Wednesday during periods of high heat (above 85°F) to ensure same week delivery. We may, at times, contact customers to consult on faster shipping or a holding the shipment back to ensure the integrity of their wines. You will receive an email confirmation and tracking number when your order has shipped. Please call us at 530-273-1596 for specific shipping questions.
Destination Address: We strongly recommend delivery of wine shipments to a business, rather than a residence. All shipments require a signature to verify proof of age (over 21 years old). Should a shipment be returned because a signature cannot be obtained, we will not refund the shipping charges. We regret we cannot deliver to P.O. boxes.